Stressed is desserts spelled backward!
 Thank you for visiting the funzen bakery, looking forward to serving you dessert first, food for thought, 
virtual sips of tea, spiritual espresso tips, and soul treats. Let's discover rising above real life's challenges with humor, hope to take the next heart step, inner harmony and oneness. 

 "It's a treat if it makes you smile."  Martha Beck   = )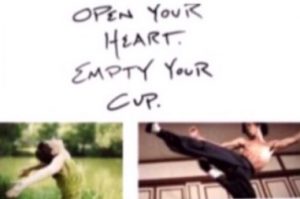 Open your Heart. Empty your Cup: aka Leave your ego at the door.  When our cup is empty we recapture the child-like ability to learn mindfully with a beginner's mind. I teach the inner mechanics to reach excellence by gaining mastery of the fundamentals. In Japanese, the word for black belt is "Shodan," in translation, this means "first step" and embodies the zen mind, beginner's mind of a lifelong learner.  Now, I have learned enough to really begin learning.  Training to shift from a worrier to a warrior under pressure is the first step to being part of the solution, and having a black belt for your soul.  Never stop learning. Simply put, 'It's what you learn after you know it all that counts." John Wooden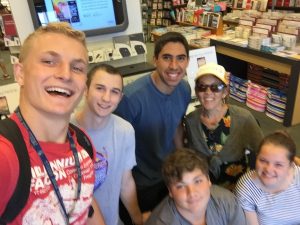 Leave your ego at the door, B&N Bookfair "Reading is Awesome" 8/28/16
Meditation is a form of mental martial arts: Dr. Joan Borysenko, brilliant author of Pocketful of Miracles helps us to let go of fear and realize the light of peace. Joan Borysenko says, "If we resist thoughts, they will overpower us.  But if we just step lightly out of their way, letting them come and go like birds flying overhead, we can use their energy to further focus our minds." read more
Black Belt for the Soul Treat: shifting from a Worrier to a Warrior in the moment: Novelist, Veronica Roth, says, The ultimate lesson of Dauntless, both in literature and in life, is not about having no fear, but of trying not to let that fear determine your behavior." Veronica Roth's words capture the essence of the Latin word,  cor (root meaning) courage "to have heart," to stay in our hearts when we're scared and the sensations seem unbearable,  but we bear them anyway, that is flexing our warrior backbone of courage.  We have a choice each moment. Who will we feed or listen to? our  inner worrier's voice of fear and anxiety who says, f.orget e.verything a.nd r.un  or the heart's voice of  love or self compassion that whispers to the warrior, f.ace e.verything  a.nd r.ise.
"Like a lotus flower that grows out of the mud and blossoms above the muddy water surface, we can rise above our sufferings of life." Buddhist saying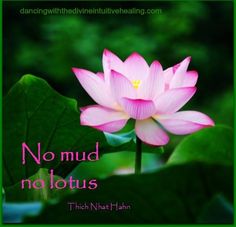 Worrier to Warrior Within Aha Blessing:  "Unless we're able to face our suffering, we can't be present and available to life, and happiness will continue to elude us."   Thich Nhat Hanh, No Mud, No Lotus
The spiritual secret to true joy is to transform our suffering, by breathing through the storm, (face and erase our fears, one by one),  not running away from them.
Mindful Motivation Mojo: We must move to find our groove, and improve, not the other way around.
According to brilliant author, Brendon Burchard,  of The Motivation Manifesto. Motivation only comes after we've  expended the effort and enjoyed positive consequences. " We have to realize the act of doing something, pursuing our dreams is what makes us feel alive…"
Grace holding The Motivation Manifesto, Yes, as a  VO (voiceover star) she uses books like this one and the Alchemist by Paulo Coelho to keep her game strong with an attitude of  gratitude to maintain altitude.  FunZen girls love and highly recommend  this book which is  published by Hay House.
Spiritual Espresso: It has been said that motivation is temporary, and inspiration is permanent.
Our Miracle Diamond, Mindful Posture Tool: inspires, embraces, and uplifts us to stay on point.
Wearing our miracle diamond of mindfulness ignites the courage to be brilliant.
 Watering, re-seeding, and weeding, GREATNESS Within You Right Now!  It's supposed to be diamond hard. "If it were easy, everyone would do it." Eric Thomas
 In the words of Audrey Hepburn, "Nothing is impossible, the word itself says 'I'm possible'!"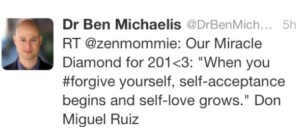 FunZen girls appreciate Dr Ben Michaelis mentioning the miracle diamond via a tweet in 2013. Three years later, keeping calm to grind and shine, Our Miracle Diamond of Mindfulness is sparkling and shining brighter than ever.
Note, many of us heard our mothers say, "sit up straight" and we did the opposite.
Now, consider what felt impossible is now possible when you carry this sparkling gem,
                                                                The Miracle Diamond's  Inner Dancer Mantra: "When the body lifts, the mind shifts, and the spirit soars."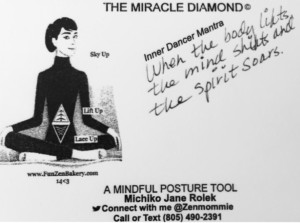 Black Belt for the Soul Inspirational Recipe: 
Easy as pie, 1 2 3
Beginner's zen mind steps to activate your Miracle Diamond, (girls bestie) Mindful Posture Tool to Feel Tall, Light, and Firmly rooted in the here and now. Note, being willing to learn how to play your instrument of divinity is the first stage. Gaining total command of your body-soul instrument comes effortlessly from being in balance through alignment.
Lace up: (lower triangle) nature' girdle by lifting the pubic bone up in front to engage lower abdomen and deep gluteals, (modified pelvic tilt). Go deeper, squeeze and hold sit bones together, (embraced) also practice kegels-tighten up perineum or pelvic floor.  learn more,  Root Lock-Mula Bandha- Your Ticket To Infinity and Beyond by David Life
Lift up: (upper triangle)-feel both sides of your waist elongating  as you slightly lift right under your sternum, breastbone, (wishbone) to experience a ribcage lift (uplifted).
Sky up: Soften and tuck in your chin to elevate your heavenly crown, or "Keep Your Head to the Sky"  as the legendary band, Earth, Wind and Fire's song suggests. Remember, keep both feet on the ground and sky up to elevate your heavenly crown.
                                                Note, feeling tall on the inside even when you're sitting down. Meet my mentor, Jewish fairy Godmother, author, Helen Fleder who designed the miracle diamond and shared it with me to we.
Find out why slouching can make us feel depressed, and keeping our Head to the Sky can keep us Focused, Inspired, and Confident!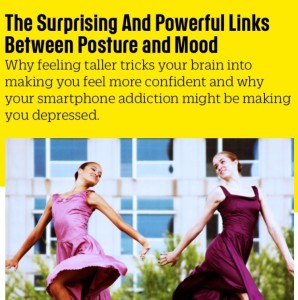 learn more, Magic Mood Booster -Posture Connection 
One Move with Many Blessings!
Meanwhile, enjoy our short FunZen girls tutorial on how to activate the Miracle Diamond of Mindfulness

Our Mindful Posture Tool only takes one move (dual action) to effortlessly take us from Slouch to Stretch!
1)  Lifting up takes you there (inner ribcage lift).
2) Lacing up keeps you there (engage core).
Mindful body-awareness keeps us anchored in the present moment. The instant we catch ourselves slouching (we all do) we can lift right under the breastbone and magically shift from slouch to centered, stretched, strong and stress free like a deeply rooted tree.
Self-love Challenge: Polish your miracle diamond of mindfulness everyday to build trust being your own bestie. The first step is quieting down the inner critic or bully. Powered by 3Gs stay Grounded in your breath, Grateful -a grateful heart is a miracle magnet, counting blessings not stressings, Gorgeous -comfortable and joyful in your own skin radiating fearless confidence. You are training your instrument of divinity to maintain the feeling of being embraced and uplifted.

Accept and acknowledge your own brilliance. Stop waiting for others to tell you how great you are! 
Being a badass (ballerina) is unapologetically accepting and loving your brilliant, beautiful, and bold body-soul. Say it and mean it "I am enough", right here and now. 
Believe it for yourself. – Check out my story on how Iyanla Vanzant helped me unleash my brilliance.