Black Belt for the Soul Tip: 
"Forget what you know and remember what you have forgotten." Sensei Benny
Takeaway: There is a FunZen Kid inside of everyone.  Simply put,  the original movie  "The Karate Kid" released in 1984 shares pivotal life lessons like emotional resilience, e.g. Life will knock you down, we can choose to be a worrier or get back up and be a warrior.
I like to say, "The Karate Kid meets The FunZen Kid",
reminding us to honor the secret to training for excellence is found in the zen element or spiritual side of the martial arts. 
Check out our  newest book for Parents and Kids of all ages.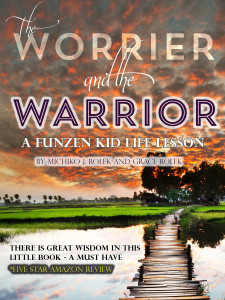 Check out our new book covers.  We changed them to appeal to a wider audience. However, we still have the same illustrator, Elle Mathews, a true FunZen kid. We hope that more people will be able to relate to the books and let the simple wisdom that we live by unleash their inner FunZen kid. After all, "Zen is to have the heart and soul of a little child." – Takuan
The Worrier and the Warrior – A Fun Zen Kid Life Lesson
Ryan learns something new and life-changing from Cupcakes at the FunZen bakery
Buy Here- Amazon Kindle -eBook -Currently Only  3.99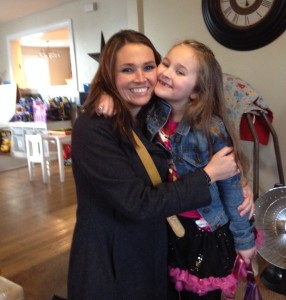 Mindful Mother and Daughter – Jill and Elle Mathews (FunZen Girls)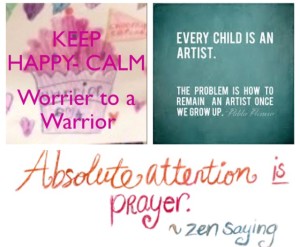 "I think, at a child's birth, if a mother could ask a fairy godmother to endow it with the most useful gift, that gift should be curiosity." – Eleanor Roosevelt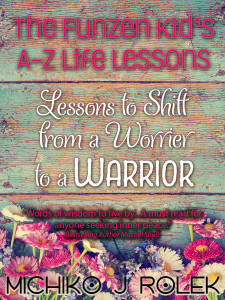 Are you a worrier or a warrior?
Foreword by Machel Shull

The FunZen Kid's A-Z Life Lessons to Shift From A Worrier to a Warrior  Filled with fanciful illustrations by Elle Mathews and written in prose easy for children to understand, yet with enough depth and wisdom for adults, see note to parents, this is an interactive book of important, easy to digest instructions and exercises.
"We can't expect our children to be something that we aren't willing to be ourselves." Dr. Shefali Tsabary-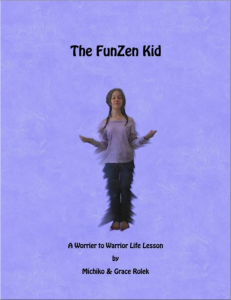 The FunZen Kid A simple story about a girl named Ryan which aims to show children how easy it can be to cope with the rigors of growing up if they use FunZen tools.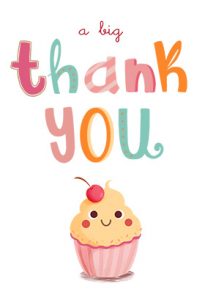 As a big Thank you for your support! Must See FREE eBOOK (The FunZen Kid) Grace wrote it and I sprinkled (pixie power),
a little zen wisdom here and there. ♡♡♡
Check out the mesmerizing  story of my great grandparents,  Zen Odyssey: The Story of Sokei-an, Ruth Fuller Sasaki,
and the Birth of Zen in America by Janica Anderson, Steven Zahavi Schwartz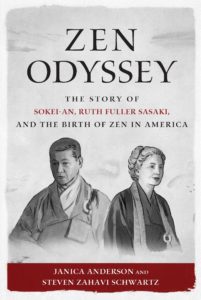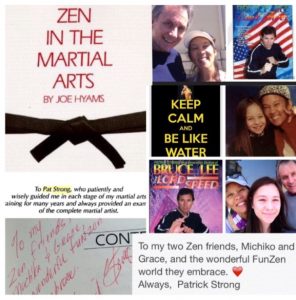 To my two Zen friends, Michiko and Grace, and the wonderful FunZen world they embrace.
Always, Sifu, Pat Strong, Bruce Lee's student, Co-author of Zen In The Martial Arts with Joe Hyams
"Some children's books get a bad rap for being narrowly moralistic. You won't find that in Michiko and Grace Rolek's work. Their books are uniquely enigmatic… More than anything, they inspire budding minds to think in ways that will free them from many of life's dark and angst-ridden trenches. These are lifelong books that reveal more with each read – and there's plenty for parents to glean, too."
Caleb Melby,  Author of "The Zen of Steve Jobs"
Dear Michiko. I love what you are doing to help people be warriors, not worriers. What a difference this makes. We either transcend fear and doubt and stress… or we transmit it. Keep up the great work!
John J. Murphy, Author of  "Zentrepreneur: Get Out of the Way and Lead"
–
"The FunZen Kid: A-Z Life Lessons to Shift from a Worrier to a Warrior should be given to students of all ages, but especially those that are still in school.  Michiko and Grace Rolek's book is a treasure of inspiring Zen wisdom that is a fantastic reminder to all of us that with the right point of view we can transform our fears into blessings."
-Ben Michaelis, Ph.D., clinical psychologist, speaker, and author of  Your Next Big Thing: 10 Small Steps to get Moving and get Happy" –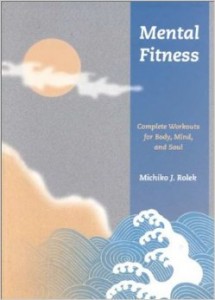 Mental Fitness Foreword by Leonard Cohen
A practical handbook for mind and body fitness with simple instructions on breathing, posture, and relaxation which can be done anywhere, at any time.
"…We spend so much time chasing our blessings, we forget to use the one we have. In Mental Fitness, Michiko Rolek teaches us how to use what we have in order to achieve more of what we want. What a blessing!"
Iyanla Vanzant – Author of Peace from Broken Pieces, Acts of Faith, and Forgiveness: 21 Days to Forgive Everyone and Everything
"In a sea of self-help word play and abstract concepts , it's a pleasure to find Mental Fitness, Michiko Rolek's mind-body manual covering practical basics of breath and attention to help us stay centered and grounded in a challenged world."-Dan Millman – Author of Everyday Enlightenment and Way of the Peaceful Warrior, The Creative Compass w/daughter, Sierra Prasada
–
More Praise!
"What a delightful book Michiko Rolek has written. It is so very important to breathe every day! Thank you for helping me to simplify my life in a joyful way."
Louise L. Hay – Author of You Can Heal Your Life and Empowering Women
"Mental Fitness is a highly useful guide to inner peace. I've read it, love it and highly recommend it."
 Richard Carlson – Author of Don't Sweat the Small Stuff
"Michiko Rolek's Mental Fitness delivers all it promises, beginning with its premise that centering through meditation is the foundation of true physical, mental, emotional and spiritual fitness. Those who sincerely apply Michiko's step by step process cannot help but arrive at the threshold of their own inner beauty, strength and transformation."
Dr. Michael Beckwith – Founder & Senior Minister, Agape International Center of Truth
Mental Fitness is a very soothing book to read. It lives up to its title as a complete workout for Mind, Body and Soul. Open it to any page, begin reading and let it do its magic."
John Tamiazzo, Ph.D. Executive Director of  Educational Kinesiology Foundation International
"I so appreciate the wisdom conveyed by Michiko & Grace Rolek's '"Ryan, The FunZen Kid.  My personal study of this transformational thinking didn't occur until adulthood.  How blessed it is to have a simple and clear guide to help young minds begin the journey of enlightenment at an age where the tangle of negativity is not too thick!  '"Ryan, The FunZen Kid'" is a wonderful introduction to the principles of Zen teachings, with stories told in an entertaining and accessible way."
Wendy Winks, Executive Director,  Rock School Scholarship Fund – "We Help Kids Rock!"