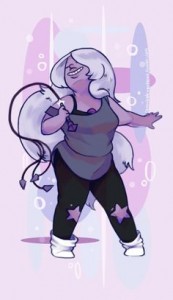 On February 12th, it was awesome to talk with Michaela Dietz, the voice of Amethyst on Cartoon Network's new hit show Steven Universe. Hear her answers to some of our FunZen questions, and listen to her share how she gets into vibrational harmony.
–
How did you get into voice acting?
Since I was young, people frequently commented on my low, raspy voice. (Either that or asked me if I was getting over a cold. TRUE FACT!) After college, I was studying acting in NYC. I saw a VO audition posted online and left a message on the casting director's voicemail. I didn't book that job, but he remembered me and called me into voice a character for a video game. Shortly after, I nabbed a series regular voiceover role on the children's show, Barney and Friends! (I love you, you love me, WE ALL LOVE FUNZEN?!) And I've been doing VOs ever since!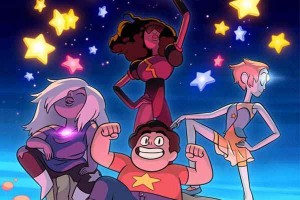 We love your vibe in Steven Universe as the crystal gem Amethyst, which you make look effortless. What is the spark of similarity between the two of you?
Oh man. Ah hahah. Maybe that I also say things like, "OH MAN!" Amethyst loves to have fun. She's passionate, excitable and isn't afraid to voice her opinion. Like me, she's also sensitive. I love joking around and laughing at myself, but I'm capable of crying about injustice in the world and especially over sentimental content. (Hello! Did anyone else weep at the beginning of the movie UP? Like, full-on blubbering baby type of tears?!?! Don't even get me started on that commercial with the puppies…)
What cool message (sharing your vision) would Amethyst like the viewers to take with them?
Don't EVER be afraid to be yourself.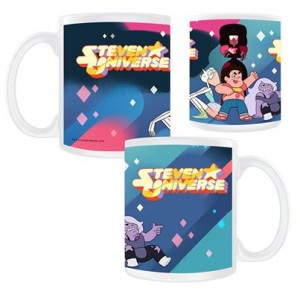 Buy this and other Steven Universe merch here!
The FunZen girls are always interested in sharing different viewpoints on how to stress the small stuff less to feel a lil more blessed in small steps. What would you suggest to help kids and teens who get overwhelmed by the relentless pressure of so many competing demands to stress less? Or, how do you deal with stress when it feels overwhelming?
First off, to the youth dealing with stress: I know it seems like there are always challenges in your life and that the worries – big or small – are never ending. BUT PLEASE! Just keep breathing, keep your sense of humor handy and it WILL get better.
I find that exercise (yoga, kickboxing, biking, dancing) is a calming and empowering force for me. If I'm feeling restless, I try to visualize myself swimming underwater. This quiets a lot of my 'head noise' and occasionally makes me thirsty.
I'd be remiss not to mention a fav buzzword here: SUPPORT GROUPS! Family! Friends! Maybe a mentor or a coach?! Someone who you trust! In all seriousness, no one can grow alone. We need people to teach us, ground us, make us laugh, confide in and people, who we can in turn, support. Ebb and flow, people. Give a penny, take a penny. I say FUN, you say ZEN. You get the drift…
 How does Michaela chill out and have fun?
When I need to chill out I stick my head in the freezer. Psych! There's nothing like a good surf session or swimming in the ocean to put a smile on my face. I've also been known to blast music in my home and/or car and bust a move. I really want to check out that wall to wall trampoline action… any takers?!
~
Check out Michaela's twitter: @Whammybah
Michaela's instagram: @Whammybah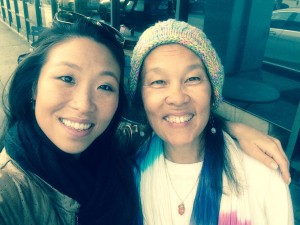 FunZen Girls