Spiritual Warrior Pose
"I believe that every single event in life that happens is an opportunity to choose love over fear." ~Oprah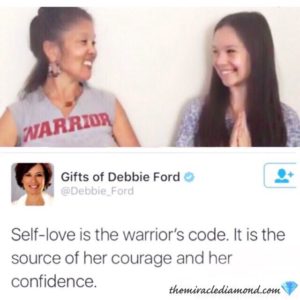 Zen is the core philosophy behind the martial arts. I coach being mindful, moment by moment, to polish your miracle diamond of mindfulness. We cultivate a non judgmental attitude to relieve stress, calm our anxious mind, and bring out our best. The three core principles we will use to set your intention and achieve your goals are,
FOCUS, DISCIPLINE and FEARLESS CONFIDENCE.
Zen aims at freedom but its practice is disciplined.  Gary Snyder
ConZENtration is the master key to success and staying "in the zone". In the words of, zentrepreneur and Star Wars creator, George Lucas, "Always remember, your focus determines your reality." As your ability to focus and tune out distractions increases, you will experience more discipline and learn to turn fear into fearless confidence.  The best part is "love wins" and winning results will follow effortlessly.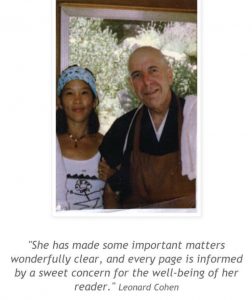 I have now been reading your book, Mental Fitness, and it is truly wonderfully sane, healthy, and spiritual all in one. Leonard Cohen's introduction is charming and quite true. I would love to see you sometime teaching in action." Gary Snyder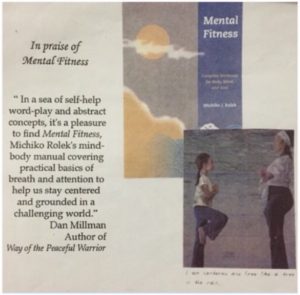 "In a sea of self-help word play and abstract concepts , it's a pleasure to find Mental Fitness, Michiko Rolek's mind-body manual covering practical basics of breath and attention to help us stay centered and grounded in a challenged world."  Dan Millman – Author of Everyday Enlightenment and Way of the Peaceful Warrior
About M.J. Rolek
Michiko is the great-grandaughter of Sokei-an and Ruth Fuller Sasaki, great grand parents of Zen in the West. Called a real Life Coach that teaches mindful living skills, she's been an advisor to the hit reality show Starting Over and has lectured at Caltech, taught at Paramount and 20th Century Fox. Her celebrity clientele includes: Lakers coach Phil Jackson, music legend Berry Gordy, and actors Pamela Anderson, Jim Carrey, Lauren Holly, Robby Benson, and Tyra Banks. Rolek is author of Mental Fitness, a unique book that offers workouts for the body, mind and soul. The foreword of her book was written by legendary poet, singer, songwriter, zen monk,  Leonard Cohen. It has fondly been referred to as "Yoga off the Mat".  Celebrity authors includes: Louise Hay, Iyanla Vanzant, Michael Beckwith, Dan Millman and Richard Carlson. More recently, Michiko and her daughter Grace wrote three books for children and the kid in all of us. Ryan the FunZen Kid is a free eBook. A-Z Life Lessons, The Worrier and the Warrior are currently available as Kindle eBooks. See the Books page for more information.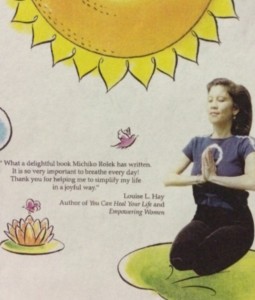 "What a delightful book Michiko Rolek has written. It is so very important to breathe every day! Thank you for helping me to simplify my life in a joyful way."
Louise L. Hay – Author of You Can Heal Your Life and Empowering Women

.
We spend so much time chasing our blessings, we forget to use the one we have. In Mental Fitness, Michiko Rolek teaches us how to use what we have in order to achieve more of what we want. What a blessing!"
Iyanla Vanzant – Author of In the Meantime and One Day My Soul Just Opened Up
"Michiko Rolek's Mental Fitness delivers all it promises, beginning with its premise that centering through meditation is the foundation of true physical, mental, emotional and spiritual fitness. Those who sincerely apply Michiko's step by step process cannot help but arrive at the threshold of their own inner beauty, strength and transformation."
Dr. Michael Beckwith – Founder & Senior Minister, Agape International Center of Truth
A little space is still available, book your mindful telecoaching session or meet me to restore perspective, raise your vibration, and go from frazzled to finding your pocket of peace.
 
Contact Information:
Twitter :@mindfulposture
Instagram: @M.J. Rolek
Email: michikorolek@gmail.com
Phone: (805) 490 2391