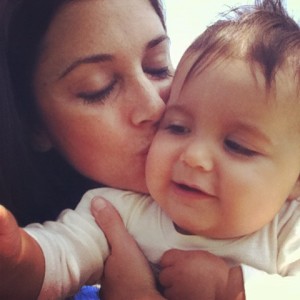 Melissa and her baby Isabelle <3
Grace and I are grateful to serve up Melissa's story about how the FunZen Kid's life lesson re. shifting from a worrier to a warrior has positively influenced her life both personally and professionally.
Melissa totally gets it like Ryan, choosing to pivot from a worrier to a warrior prepares you to be a female hero of your own story.
Check out her blog where she has to use her mindful tools (such as the snow globe meditation) with her daughter in a story that brings a literal meaning to the expression, "Poop Happens".
~FunZen Girls just wanna  Focus, Flow, and have Fun!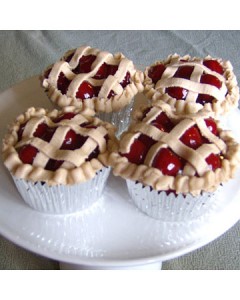 Cherry Pie ~sweet-tart~Cupcakes
 Melissa Scanlon's  Sweetie Pie in the Sky Yum- Om
Quotables from the FunZen Bakery
Pie crust 101: Be open to changing your habits and practice being receptive.
You may enjoy the new flow! 
"In a delicious pie it is the filling that matters most. Our thoughts about our Self
and the world around us create our soul batter."
Would you describe yourself as a Worrier or as a Warrior?  Do you know the difference? As a parent are you raising a Worrier or a Warrior? Your answer to the first question dictates your answer to the next two. When we become parents the choices we CHOOSE to make translate to the wisdom we pass on to our children. Like sponges, children absorb everything around them. Like adults, children feel pressure and stress. The way they learn to respond to these stresses mirror our behavior. We all want to be the best parent we can be to our children and the wisdom to be that person lives within our heart.
Michiko and Grace Rolek's FunZen approach to parenting and to life reminds us that parenting isn't about being perfect. It's about being a parent who digs down deep to root, rise and soar. It is about being a parent who looks in the mirror and sees a Warrior smiling back. Clear vision often requires adjusting our lens. The Worrier and The Warrior is an invaluable tool that empowers parents with the wisdom necessary to make the adjustments to awaken our inner Zen Master –growing our wings of self-love to soar with our child through life's happy-calm skies.
As a new parent I am learning that, "The real challenge of wholehearted parenting is to be the adults that we want our children to grow up to be." We child proof our home, but quickly learn that our souls also need childproofing. A common misconception is that once we become an adult we stop growing. When children come into our life they invite us to rise to the challenge of raising our Self and attaining our Black Belt for the Soul.
As a yoga instructor focusing on children, one of my favorite things about children is their natural inclination to live life completely in the moment. In this total engagement there is beautiful, uninhibited self-expression. Self-love is the foundation of good parenting. Out of this glowing and flowing heart space we celebrate our Self and SHOW our children to celebrate their individuality by brightly shining their heart light.
There are a ton of parenting books on the market. It is easy to get bogged down with long words and lost meanings. The magic in Michiko and Grace's FunZen Life Lessons is that they keep the lessons simple, pure and FUN! Written as a child-friendly narrative The Worrier and the Warrior is an interactive story you can read with your child to cultivate mindfulness and get the conversation started. In Michiko's A-Z Life Lessons she teaches us that, "like an umbrella, the mind works best when it is open.  If we think we already know, how can we learn anything new? To embrace life's possibilities, the Warrior is open to trying a new approach and thinks creatively."
Namaste <3
FunZen Girl & Mindful Momma
Melissa
About Me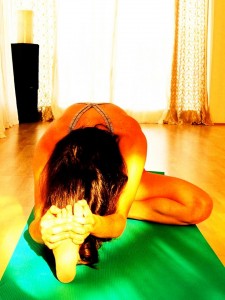 I am an LA based yoga instructor focusing on children (Happy-Kid Yoga) and have been practicing yoga for 8 years. My passion is to help others find the inner strength and peace that my own practice helped me to cultivate. From this place of self-love our brightest light shines – life coaching with Michiko and her A to Z Life Lessons taught me to LIVE from that place of self-love and I have blossomed as a person and as a teacher since.
I have a 10-month-old daughter, Isabelle, who has caused my heart to blossom and grow in ways I never imagined possible. One struggle that we faced with Isabelle was getting her to sleep peacefully. We were going through all the motions; lavender baths, music, books, signing, rocking – nothing seemed to soothe Isabelle to sleep. We endured hours of crying at night for 8 months. Michiko reminded me to check in with myself and to nurture my Zen Momma soul with lots of MOMents and self-love. Bedtime had become such a stressful time for me and my stress was affecting Isabelle – she could FEEL it. I shifted my perspective and WHOOOOSH Isabelle's sleeping has been improving and the whole family is happier at bedtime.
A mutual friend introduced Michiko and I, and in the short time that she has been coaching me her wisdom and approach to life has empowered me to wear my Black Belt for the Soul. I am honored to have the opportunity to write the book Description on Amazon (Kindle) for Michiko's newest book and share with you how much her wisdom has helped me to grow. Thank you Michiko for sharing your Spirit to spark my inner light and helping to build a foundation of confidence to keep it shining bright.
Contact:
Email: scanlon.mc@gmail.com
To buy The Worrier and the Warrior, (the newest addition to our e-book collection!) currently only $3.99, CLICK HERE!