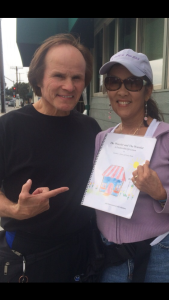 Michiko and Martial Arts Legend, Sensei Benny Urquidez 
"Zen aims at freedom, but its practice is disciplined." – Gary Snyder
Michiko Jane Rolek, also known as lil mama, is an Author,  Life Coach and Speaker. She was born into a famous Zen family legacy. Her great grandfather, Sokei-an Sasaki, was the first Zen Master to make his home in America and her great grandmother, Ruth Fuller Sasaki  is known as the "Grandmother of Zen in the West". Michiko is a Kawaii designer specializing in "dreams of a child" for the kid in all of us; kawaii means かわいい, , "lovable", "cute", or "charming".
She is certified to teach Brain Gym, and Tibetan Co-Meditation which she learned in Boston from her mentor,  Dr. Richard W. Boerstler , who was introduced to it at Harvard Divinity School. Her first book, "Mental Fitness", was published in 1996 by Weatherhill, the same company that also published Sokei-an Sasaki's "The Zen Eye" and Shunryu Suzuki's zen classic "Zen Mind, Beginners Mind". The foreword of her book was written by legendary poet, singer/songwriter, and zen monk, Leonard Cohen. She was told by Weatherhill that her book was like an organic cookbook to help people "taste zen."
Her mind-body & soul fitness program, The Centered Stretch, was born out of her work at Paramount Pictures and 20th Century Fox in 1992 and to this day helps people to experience the yogic bliss of less stress,  laser focus, energy boost, and centered control. Her life changing ideas and self empowerment program known as "Black Belt for the Soul" was featured on NBC's Emmy winning Reality Show "Starting Over". Her well attended lecture series "Yoga Off the Mat" at California Institute Of Technology offered a Holistic or Zen Tune-up Kit using Yoga Tools like Inspired Breath, and Posture Awareness, to relax, reduce stress, stay focused, and radiate confidence.
From designing jewelry to providing zen tools for practicing centering and mindful living, her celebrity clientele has included:
Los Angeles Lakers Head Coach, Phil Jackson, Champion Surfer, Kelly Slater, Stevie Wonder, Al McKay of Earth, Wind and Fire, Berry Gordy and Joe Sample, Robby Benson, Peter Bogdanovich, Pamela Anderson, Jim Carrey, Lauren Holly, Bill and Kristen Bellamy,Tyra Banks, The Pink Lady, Jackie Goldberg,
Disney actress, Ryan Newman, and more.
"There is a FunZen Kid in everyone." M.J. Rolek
With the help of her daughter Grace, Michiko continues to design and develop the work with her Mindful Martial Arts program for children known as FunZen where "discipline becomes blisscipline," the tri-harmony of  self discipline, self love, and self respect. FunZen helps kids of all ages learn to cultivate having a Beginner's Zen Mind to practice the zen adage, "Empty the cup, and Open the heart"; in order to bring their A game of Attitude with Gratitude to gain Altitude. They have fun earning their Black Belt for the Soul by learning to strengthen their spirit and character to laser focus their minds. By keeping mindful attention on their intention they gain courage and confidence while shifting from a worrier to a warrior, moment by moment. Take a peek at how Grace, now a teenager, uses her Everyday FunZen to keep zenergized calm, polishing her miracle diamond of mindfulness, to stay in her funzen zone as a voice over star. She is delighted to share her secrets so you too can  tap into your  sweet spot of love and a little dose of self love to rise above any emotional storm.
While working with Jani Schofield a seven-year-old girl living with childhood Schizophrenia, Oprah Winfrey accepted the invitation to Michiko's house to cover Jani's Journey. Her FunZen Bakery blog was created at this time to share her passion which is compassion with a playful and practical voice of teaching FunZen to kids of all ages and Inner-parenting through Zen and the Art of  Mindfulness. Click here for Oprah link. ♥
More recently, Michiko and her daughter Grace wrote three books for children and the kid in all of us. Ryan the FunZen Kid is a free eBook. A-Z Life Lessons, The Worrier and the Warrior are currently available as Kindle eBooks. See the Books page for more information.
–
"Some children's books get a bad rap for being narrowly moralistic. You won't find that in Michiko and Grace Rolek's work. Their books are uniquely enigmatic… More than anything, they inspire budding minds to think in ways that will free them from many of life's dark and angst-ridden trenches. These are lifelong books that reveal more with each read – and there's plenty for parents to glean, too."
Caleb Melby,  Author of "The Zen of Steve Jobs"
 –
"Innovation distinguishes between a leader and a follower." – Steve Jobs
"…All leaders are readers." Harry S. Truman
In Praise of Mental Fitness and Black Belt for the Soul; An Inspirational Recipe To Work Your Mojo at the Inner Dojo
"What a delightful book Michiko Rolek has written. It is so very important to breathe every day! Thank you for helping me to simplify my life in a joyful way."
Louise L. Hay – Author of You Can Heal Your Life and Empowering Women
"Mental Fitness and Black Belt for the Soul are perfect gifts for anyone seeking a clear mind and a peaceful heart. They offer the perfect inner workout for helping people realize their true potential."
Robin Crow – Author of Jump And The Net Will Appear, Owner, Dark Horse Recording Studios
"Mental Fitness is a Blessing on all levels! In simple yet profound language you learn to reach inner peace through staying centered and through sacred breath. It is an excellent guide to Mindfulness."
Denise Linn – Author of Sacred Space and Feng Shui for the Soul
"Michiko J. Rolek has produced a gem of a book as bright and clear and simple as a diamond. Her exercises and spare explanations take you immediately to the important tasks, the key thoughts. Yet ironically, the precision of her writing also produces a sense of spaciousness, so rare in today's rushing, crowded world. Mental Fitness is a marvelous, simple blueprint for attaining unified consciousness."
Penney Peirce – Author of The Intuitive Way: A Guide to Living from Inner Wisdom and Frequency The Power of Personal Vibration
"Mental Fitness is a highly useful guide to inner peace. I've read it, love it and highly recommend it."
Richard Carlson – Author of Don't Sweat the Small Stuff
"In a sea of self-help word play and abstract concepts , it's a pleasure to find Mental Fitness, Michiko Rolek's mind-body manual covering practical basics of breath and attention to help us stay centered and
grounded in a challenging world."
Dan Millman – Author of Everyday Enlightenment and Way of the Peaceful Warrior
"A few years ago, Michiko Rolek brought a dozen of her books, Mental Fitness, by our practice facility at my request. I passed them out to the team, recommending they read it. Many of the guys connected with the book. It's a simple, easy, lesson workbook that anyone…can benefit from using.
Phil Jackson, Head Coach, Los Angeles Lakers
"…We spend so much time chasing our blessings, we forget to use the one we have. In Mental Fitness, Michiko Rolek teaches us how to use what we have in order to achieve more of what we want. What a blessing!"
Iyanla Vanzant – Author of In the Meantime and One Day My Soul Just Opened Up
"Michiko Rolek's Mental Fitness delivers all it promises, beginning with its premise that centering through meditation is the foundation of true physical, mental, emotional andspiritual fitness. Those who sincerely apply Michiko's step by step process cannot help but arrive at the threshold of their own inner beauty, strength and transformation."
Dr. Michael Beckwith – Founder & Senior Minister, Agape International Center of Truth
"The words and exercises contained between the first and last page of Mental Fitness, by Michiko J. Rolek, Heal when put into action by the person who reads and uses them."
Dr. O.C. Smith – City of Angels Church of Religious Science
"With a unique style, voice and point of view, Michiko shows us how to live a life of beauty and integrity with powerful and potent results."
Marcia Wieder – Author, America's Dream Coach, Making Your Dreams Come True, Doing Less and Having More
"Heaven and Earth make up the universe but it needs the human touch to feel complete. There is no better method than to feel the earth with the bottoms of the feet and to feel heaven with the top of the head. The principle of the yin and the yang gives energy to the life giving force of living. In Mental Fitness you will find the road to this discovery. Make sure that time is used to practice it."
Master (Sifu) James Wing Woo, Chinese Martial Arts Club
"Michiko takes complicated exercises and makes them simple and satisfying. Flow with her and get a Black Belt for your Soul."
Michael Fowler – Aikido Multiple Black Belt
"Mental Fitness by Michiko Jane Rolek incorporates physical disciplines usually used in Yoga to control breathing, that bring  centeredness by meditation, lead to higher performance and mental acuity. This book is a Handbook to be used by young teenagers to senior citizens.  As soon as I started reading it, it brought out the curiosity of a child in me, and I was not able to put it down, till I finished it.  For those seasoned in the Yoga practice, this is sound refresher literature, to re-establish sound practices. The quotes and ilustrations are extremely thought provoking."
Charles Meckel,  Formula 1, Grand Prix Promotor
"What Bruce Lee is to the martial arts, M.J. Rolek is to what she teaches. When you earn your Black Belt for the Soul, you've earned it from a master."
Hyland Church- Musician
"Most meditation teachers use too may words. Michiko's work, Mental Fitness, is an invitation into the Zen Mind, Beginners Mind. She uses as few words as possible to point to the moon. She really is a teacher through osmosis, presence and direct transmission."
Lorin Roche Ph.D – Author of Meditation Made Easy
"I am not a scientist, physicist or anything other than a performer who tries to brighten the world with positive work, so I cannot tell anyone why OxyZen became a part of my life; my work and my workouts. It may seem like an endorsement without merit, but what better endorsement than to say that I just "felt so much better" when I would drink the water known as OxyZen. I am very thankful that in a world that is inundated with products of promise, this is a simple product that came to my attention without hype and has made me…feel good. I am proud to say that I enjoy OxyZen. I am also proud to say that this endorsement would be counterfeit if I had financial gains attached- I don't! I just want to spread the word. I wish and hope the people I know and love could experience it also. Sincerely."
Robby Benson – Actor, Director, Educator, Singer
"Michiko Rolek helped me find my inner core, which has enabled me to succeed in my dreams. Her wisdom can establish a wonderful foundation for the future you are hoping to attain. If you are lucky, you will be able to work with Michiko. Many want to learn meditation. But if you don't have a teacher to direct your path, you will never learn. Michiko teaches fundamental breathing principles with exercises that are easy to learn, apply and weave into your day. I am so lucky to work with her spirit and light as a guiding force."
Machel Shull – Author, and Photo Journalist
"Michiko, Thank you for all your knowledge and for teaching me to remember all mine that matters."
Pamela Anderson – Actress
"Mental Fitness is the ancient knowledge of the Zen Masters crystalized and applied to daily life."
Steven Heine – Author of White Collar Zen
"I have now been reading your book, Mental Fitness, and it is truly wonderfully sane, healthy, and spiritual all in one. Leonard Cohen's introduction is charming, and quite true. I would love to see you sometime teaching in action."
Gary Snyder – Author and Pulitzer Prize winning Poet
—
Donating =Loving Support: Roots and Wings Research